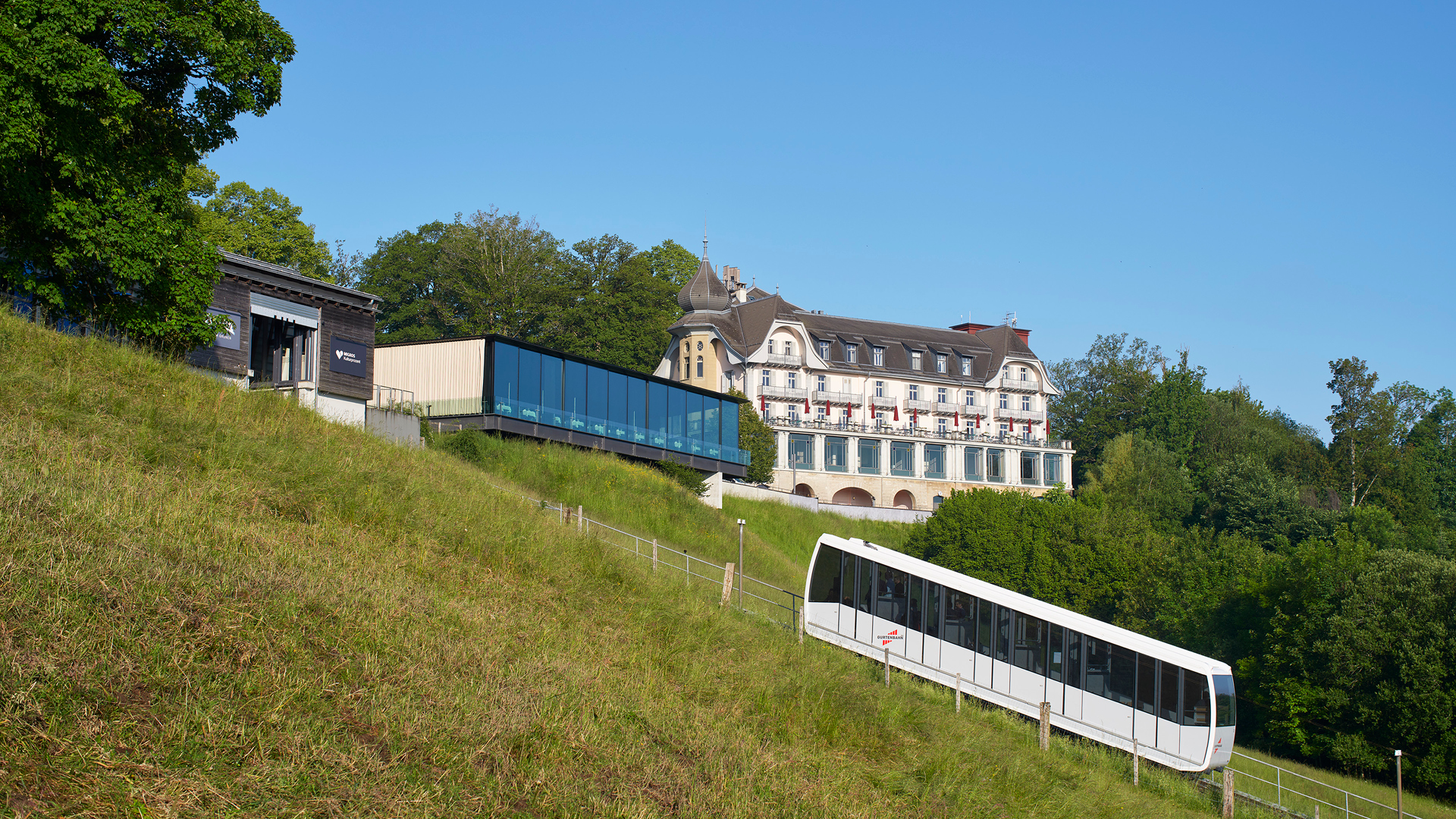 Timetable & ticket prices
You can purchase tickets for the Gurten funicular from the ticket office at the valley station. Alternatively, you can use the ticket machines at the valley and top stations or purchase a ticket using the app.
For conventions, seminars, corporate events, sports events and other special events, we can offer you a flat-rate deal. Contact us with a non-binding request.
Season tickets, half-fare tickets, Bern Ticket JuniorCard and Libero (monthly or annual subscription for zone 100/101) are valid. The Libero day pass and the multi and group day passes are not valid.
Wabern-Gurten
Adults
Single ticket:
CHF 6
Return ticket:
CHF 11
Children (6–16) / half fare
Single ticket:
CHF 3
Return ticket:
CHF 5.50
To ensure the safety of passengers, the systems must be in perfect condition. On April 14, 2022, Gurtenbahn Bern AG was granted certification for the sixth time that the company satisfies the requirements of the "ISO 9001:2015 Quality Management System" normative provisions in all areas (rail operation, leisure facilities and parking) without any deficiencies.
Contact
Do you have any questions about the Gurten funicular, the car park or the toboggan run? Have you lost any personal items in the Gurten funicular? Please do not hesitate to contact us at +41 31 961 23 23 or at info@gurtenbahn.ch.
Gurten funicular timetable
The Gurten funicular departs every fifteen minutes from 7 a.m. in the morning. On the hour and at quarter past, half past and quarter to the hour.
Monday–Saturday
Last ascent:
11:30 p.m.
Last descent:
11:45 p.m.
Sundays and public holidays
Last ascent:
8 p.m.
Last descent:
8:15 p.m.
Dogs
Dogs measuring 30 cm or more at the shoulder can travel at children's price.
Bike transport, etc.
Bikes, bike trailers, scooter bikes, dirtsurfers and similar will be transported whenever possible. The price is calculated for the entire route and costs CHF 3.
Visually impaired guests
Visually impaired guests (and their accompanying traveler) travel free of charge upon presentation of an identity card for blind and visually impaired people from the Public Transport Association (VöV).
People with disabilities
Travelers with a corresponding identity card benefit from a half-price ticket and are also entitled to bring an accompanying person free of charge.
Sports day pass
The sports day pass costs CHF 11 and is only valid on the day of issue for athletes, cyclists and sledders, etc. The sports day pass can be purchased and used by both children and adults. No reduction is granted with the half-fare subscription.
For groups (incl. schools, youth associations, scouts, sports groups, etc.) traveling together. This rate applies to travel groups comprising at least 10 people. Each group must be under the direction of a responsible person (minimum age of 16). With the group ticket, all members of a group must make the same ascent and descent.
Erwachsene

Return

Single



Wabern–Gurten /
Gurten–Wabern:

CHF 7.80

CHF 4.20

From and to Grünenboden
(middle station):

CHF 5

CHF 2.80
Children & youths
(aged 6-25) /


with half-fare subscription / dogs

Wabern–Gurten /
Gurten–Wabern:

CHF 4

CHF 2.20

From and to Grünenboden
(middle station):

CHF 2.60

CHF 1.40
If associations do not take the journey together, the price per person of CHF 8.50 applies (minimum of 10 people for return trips). This rate is only available upon prior notification and by invoice.
A multi-trip ticket costs CHF 45. No reduction will be granted with a half-fare subscription. A multi-trip ticket can be used by the holder or anyone accompanying them. It is valid from the time of issue until the next price change. The 40 number fields will be stamped as follows:
Wabern-Gurten

Adults:
4 fields
Children/dogs:
2 fields
Bikes
2 fields
From the middle station
Adults:
2 fields
Children/dogs:
1 field
Bikes:
2 fields
For cyclists with a bike and the Trailnet member's card, three fields will be stamped.
The journey lasts about five minutes.
Yes, when special events are organized on the Gurten, it is possible to extend the operating time until 3:45 a.m. for an extra fee.
We accept the most common debit and credit cards, cash and Reka checks.
Yes, you can purchase tickets from the machines at the entrance to the top station.
No, the normal adult price applies for senior citizens.
Yes, travelers with a corresponding identity card benefit from a half-price ticket and are also entitled to bring an accompanying person free of charge.
No, the Gurten funicular group rate applies for school groups. You can find more information about group rates here.
There are restrooms at the valley station. These are accessible via a flight of stairs. There are no restrooms at the top station. Please use the restrooms in the Gurten Kulm building.
The Gurten funicular carries a maximum of 120 passengers per journey.
No, the Libero day ticket, the Libero multi day tickets and the Libero group day tickets are not valid on the Gurtenbahn. However, the Libero monthly and annual season tickets are valid.
The easiest way to find us. There are parking spaces right next to the Gurtenbahn funicular valley station.